HokuApps core doctor & patient management modules are complemented by a host of ancillary and value-added products.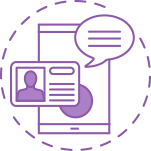 Patient Registration
Digitize new patient onboarding to automate workflows and create a centralized data repository, reducing errors.

Appointment Management
Solve conflicts, inconvenience, and timeline issues with our patient-centric Appointment Management solutions.

Patient Record management
Simplify audits, eliminate duplication and prevent errors caused by discrepancies with HIPAA-compliant applications.

Queue Management
Effectively manage dynamic patient flows and optimize your services, improving experiences in & outside the clinic.

Doctor Schedule Management
Save precious time and ensure healthcare procedures are never interrupted, with digitized schedules coordination.

H.M.I.S Reporting
Rapidly generate reports with minimal manual efforts, freeing staff to focus on patient care & value-added services.