Upcoming Mobile App Development Trends in 2018
By

Hokuapps SEO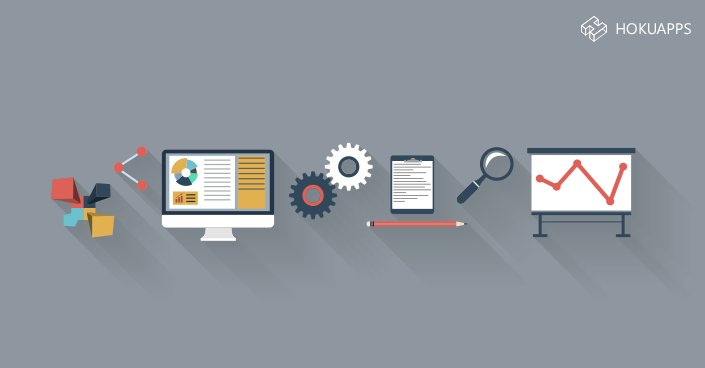 Time to state the obvious.
Everyone you know probably has a smartphone. Chances are, they have more than one mobile device. Owing to the life-easing characteristic of mobile apps, users are stuck to their smartphones for a significant part of the day. Mobile apps have taken over the world, and their dominance is pretty overwhelming. The same can be said for businesses. The biggest reasons for this is the prominence of cutting-edge technology in mobile application development platforms like HokuApps.
You can say that 2017 was the year of apps. Needless to mention, we have witnessed newer varieties across industries hitting the market, and gaining prominence as well. 2018 will most likely be the year of more of such apps with better and more interesting features. This certainly can be explained better with a few mobile app development trends.
The Rise of AI
Don't let the title scare you. We're not talking iRobot or The Matrix (not yet, anyway). Artificial intelligence (AI) has already radicalized the ways the world operates today, especially in sectors like healthcare and entertainment. AI has leapt out of science fiction, and it on its way to becoming a fixture in our apps-laden world.
As one of the mobile app development trends, AI is set to make some serious inroads into the app market. The beginnings have already been established with Siri, Alexa, Cortana or Google Allo. In entertainment, streaming sites have been recommending shows, games, etc. based on a user's search history. Now, companies like ScriptBook and Pilot Movies are using AI and analytics to predict a movie's box office potential, thus fundamentally changing the way major entertainment is shaped.
You can be assured that in 2018, AI will become more frequently incorporated into mobile apps. The possibilities are endless. You could have an app that recognizes a user's face and details from the sound of their voice, or one that can send out an SOS message from the mention of a single word. Hence, it makes sense to prepare for a wave of AI to invade your mobile devices in 2018.
The Cloud
With a great deal of information on the web, comes more frequent downloads. With great cameras on smartphones come more pictures being taken. The same applies to music. People are increasingly using their devices to get their work done, which adds up the number of files that a device has to store. Since storage is becoming more of a challenge, the cloud is becoming more prevalent in in-app circles, both customer and enterprise mobile application development.
CBT (Cloud-Based Technology) has been on the radar for a while now. Major tech companies are connecting their data by investing in legacy systems integration to migrate to secure cloud solutions. HokuApps also is one of these companies. We store our client's data on Amazon AWS servers. Naturally, business apps are also leveraging the ability to upload to and download data from the cloud. This trend is sure to expand in 2018. In fact, Statista predicted that by 2018, mobile cloud traffic will increase to 88%.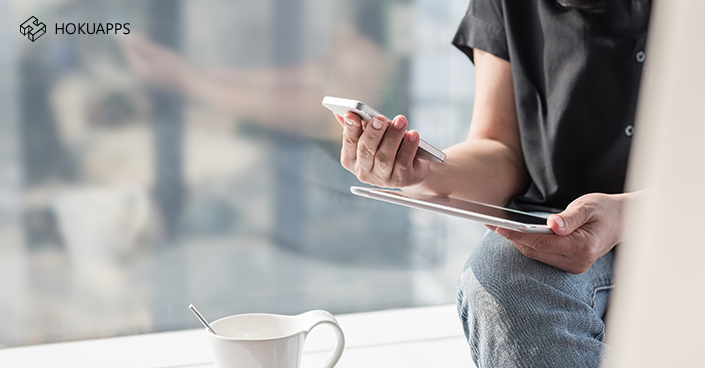 More Enterprise Apps
As mentioned above, more people are using the superpowers of their smartphones to get work done. This is only natural; why not make life as easy and humanly possible to access real-time data in the palm of your hands? In keeping with this trend, a rise in the number of enterprise apps is expected to increase in 2018.
Of all the mobile app development trends, this one is most obvious. A sponsored survey of IT management, IT development and line of business professionals from North America, Europe, and Australia, predicts that by 2019, 50% of all global companies will deploy at least 10 enterprise apps among their staff.
However, low-code mobile app development is driving enterprise app development in the last couple of years, in comparison to traditional app development that ruled the roost previously. This is because of MADPs like HokuApps, who have automated the mobile app development process, provide robust mobile apps that are reliable, affordable and are made in days or weeks. The process features three deep libraries that feature pre-configured business modules, pre-connected technology components and hundreds of design in its design studio. Mobile apps are made by using pre-built connectors to integrating appropriate elements to develop cross-platform apps automatically and then customized at a business-level to create 100% customized apps.
The Growth of IoT and Wearable Devices
The Internet of Things (IoT) has done much to expand the playing field for customers and businesses alike. It has permeated every aspect of human existence, to the extent that entire cities ("smart cities") are being designed on the basis of constant connectivity across millions of devices. A market research report has estimated that the global IoT market will expand from USD 157.05 Billion in 2016 to USD 661.74 Billion by 2021.
Unsurprisingly, more and more mobile application development companies will take into account the role of the IoT when rolling out apps. Google is already doing it with Android Things. This trend is poised to increase in 2018.
Another obvious mobile app development trend! Both Apple and Google have released smartwatches, and are planning to follow them up with a variety of wearable software. The growth of IoT is a given in an app-loaded ecosystem.
The advantage that smartphones usher into human life can be multiplied by wearable devices. Consequently, mobile application development companies are scrambling to design apps for wearable devices. This is especially relevant for healthcare in which an app wore on the body can monitor vitals and recommend (or in some cases, take) appropriate action. There is absolutely no reason for this trend to diminish in 2018. The contrary seems more likely. One can expect to see the advent of multitudes of wearable devices, with apps to boot.
More Robust Security
One of the few downsides of the internet is the expansion of security threats as well. Enterprise apps, in particular, must battle a plethora of security concerns as they are often used to access sensitive corporate and personal data. Inadequate security is the fastest way to ensure that a user deletes an app and that the app gets a bad reputation.
Consequently, developing more robust security measures is sure to gain a place of honor in the ranks of mobile app development trends. One of the reasons is the necessity of mobile application development maintenance, which is a subscription-based solution that will provide continuous security and software upgrades. 2018 is certain to usher in apps that are empowered with more iron-clad mechanisms to prevent data theft or unauthorized access.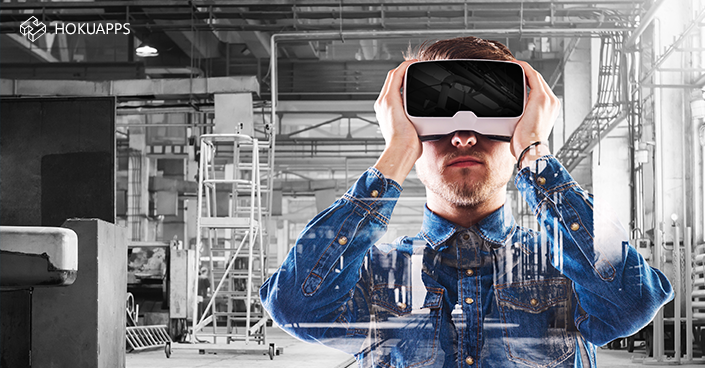 Augmented and Virtual Reality
Augmented and virtual realities are quite widely implemented in gaming industries. Case in point: Pokemon Go. However, both these technologies have immense potential for inclusion in other industries like manufacturing, healthcare and automotive. TechCrunch says that the AR and VR market is expected to grow by $108 billion by 2021. Much like AI, the possibilities for AR and VR are endless.
Digital Wallets
The world is going cashless. Life is just easier when you don't have to carry around wads of cash. Both security and ease increase with the use of mobile payments, as seen by the growing usage of apps like Braintree and PayPal.
Of course, apps handling money will be at the forefront of the security concerns mentioned above. One can expect that their increasing usage in 2018 will be accompanied by more strenuous efforts by vendors to ramp up network and systems security.
Chatbots for Better UI/UX
To enhance user experience and develop increased responsiveness, app vendors are looking to install chatbots that immediately answer queries. This reduces dependence on the availability of customer care executives. Customers can also have their issues resolved faster. The wider use of chatbots is sure to be a massive mobile app development trend.
The Defining Trend in 2018: Preference for Cross-Platform Apps
The preference for cross-platform apps over native apps is poised to be one of 2018's defining mobile app development trends. Cross-platform apps are more flexible, easier to design and deploy and suit the variant needs that most business has to satisfy their operations. They also offer more enhanced user experiences with industry-best security, which generated higher user traffic. In addition, since they are cross-platform apps, they have the potential to reach a wider range of potential users when compared to native apps.
Develop custom cross-platform apps for iOS, Android and the Web at 10x speed on the HokuApps custom mobile app development platform. Mobile apps created on the automated platform are highly scalable, secure, affordable, reliable and fully-customized to suit any business's unique ecosystem.
Experience the power of HokuApps Mobile App Development Platform where technology solutions are created at 10X speed so that you can get onto the digital transformation journey in days or weeks and not months or years.