Why Mobile Application Development Maintenance is Extremely Important – The HokuApps Approach
By

Nikki Johnson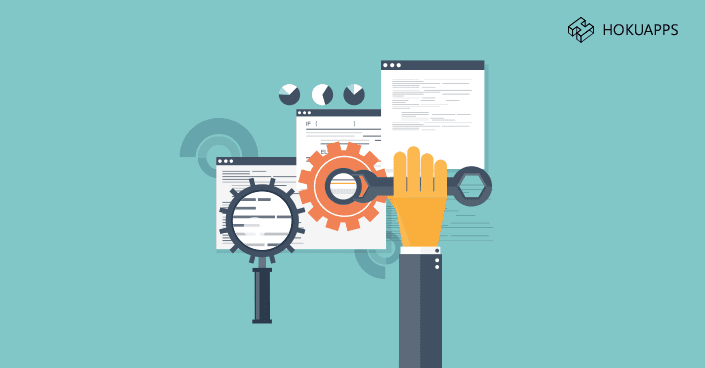 The Significance of Enterprise Mobile Apps
In the last few years, there has been a surge in the number of mobile devices at workplaces. Once mobile application development entered the enterprise scenario, it ushered in a new era of collaboration, communication and businesses efficiencies. The narrowing distinctions between consumer expectations and enterprise applications were the direct outcome of consumer-originated technologies and their impact on enterprises. The rate of adoption of such consumer-originated technologies have also increased considerably over the years and enterprises are striving to facilitate greater user adoption for long-term success.
Organizations are doing away with the utilitarian approach altogether and moving to a model that focuses on similar standards evident in consumer products. Therefore, on the business front, enterprise mobility became the key strategy that empowered businesses to effectively manage employee mobility and meet security, agility, productivity, and other miscellaneous demands.
Consumers, too, were consistently searching for engaging enterprise applications that go beyond the utilitarian experience. Today consumers are turning to mobile devices to perform tasks and therefore, expect seamless integration across applications due to the technology components-driven ecosystem in the consumer world. Businesses using multiple devices also seek smooth integration of data regardless of the restrictions imposed by legacy and disparate systems.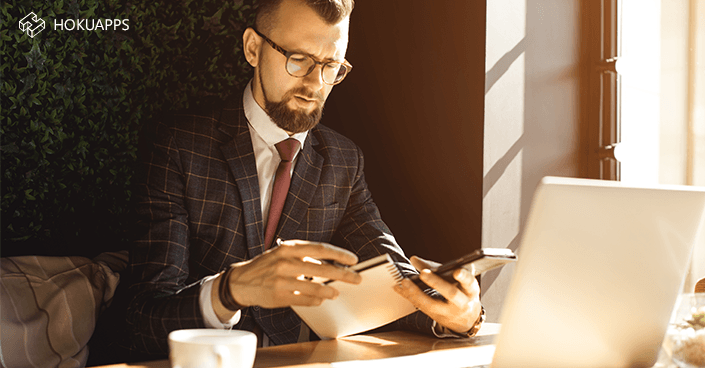 Some Key Challenges in Enterprise Mobile Application Development
Organizations face several challenges when developing enterprise mobile applications. Listed below are some key challenges and their solutions when developing enterprise mobile apps:
Gaps in Expertise: Resource restraint poses one of the biggest challenges that plague organizations. Mobile requires a specific set of competencies as compared to web and other traditional IT systems. Most organizations lack in-house resources and therefore, need to source talent externally to fill this resource gap. Sourcing talent and simultaneously maintaining a mobile application development team can be both problematic as well as cost-intensive. As a result, recruiting, maintaining and retaining high-end enterprise mobile application development resources have become a critical challenge for the organizations.
To overcome this challenge, some technology platforms have invested in low-code models of app development. As per this model, the platform comes equipped with deep libraries of pre-connected technology components, pre-configured business modules, pre-built connectors and a design studio with hundreds of UI designs. This approach to enterprise mobile application development has proven to be successful and is recommended by industry experts as solutions are reliable, affordable, provides faster app development, and most importantly, has proven to be a brilliant solution to the skills gap.
Proper Back-End Integration: In the beginning, user interface (UI) was a major challenge facing enterprise mobile application development team. However, back-end integration took things a step further – it proved to be another crucial challenge faced by a mobile application development team. Therefore, it was less about developing a compelling UI and more about connecting and integrating mobile applications with backend resources, public APIs (since the past few years witnessed a rapidly evolving API space and a proliferation in the total number of APIs) and other disparate systems.
Over the years, however, low-code enterprise mobile application development platforms have become proficient in handling mobilization challenges with inbuilt enterprise administration backend which includes a granular reporting engine and dashboards, fully customizable to a business's hierarchy.
Security Concerns: Any security flaw can affect all the functional systems in an organization. Therefore, it is imperative that enterprises identify security lapses and implement security processes when developing enterprise mobile apps.
Low-code platforms like HokuApps offers a robust and on-demand scalability infrastructure with best in class enterprise security features. Solutions built on the platform automatically subscribe to these security features.
Why Do Enterprises Need Mobile App Maintenance?
Mobile apps are susceptible to the ill effects of regular changes occurring on mobile application development platform, enabled by innovation and progressions unlike other web or desktop applications. For example, new gadgets/trends turn out every year, causing changes in the essential frameworks that support applications. Similarly, the language structure that developers use to create applications is also prone to constant changes. Applications are also likely to be affected by security changes every year. Therefore, active maintenance of enterprise mobile application development is crucial; else it runs the risk of failing to adjust to progressions while the competition stays one step ahead.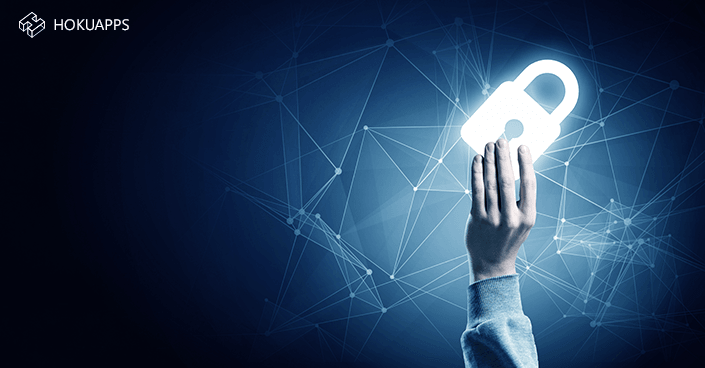 Three Important Security Processes to Follow
1) It is imperative that organizations install SSL certificates which are small data files. Once installed, these files digitally bind a cryptographic key to an organization's details. These data files will signal the application's server to securely connect to the browser.
2) It is crucial that organizations encrypt their mobile devices because lack of security measures can prove to be detrimental to an organization and its stakeholders. Once mobile devices are connected to desktop computers, the data stored on the mobile devices becomes readable on the desktop and users have easy access to the files. Therefore, encryption safeguards mobile devices against security threats and only intended users are allowed to copy the encrypted files to and from their devices. Users need to enter a PIN or a password after which the person connecting to the mobile device is able to access the data.
3) Malware present critical security risks for enterprise mobile application development. Users with malicious intent often create realistic-looking copies of legitimate enterprise mobile apps to dupe users who are downloading them. Once downloaded, this malware can severely compromise the enterprise mobile app. Right from rooting mobile devices to stealing information and bombarding the user with unwanted pop-ups and advertisements and compromising and exploiting the user data, malware can prove to be destructive in more than one way.
Mobile Application Development Maintenance – the HokuApps Approach
The HokuApps mobile application development platform (MADP) offers unique ways in which enterprises can build technology solutions. With the HokuApps mobile application development platform, enterprises can rapidly build tailor-made enterprise apps with the help of on-demand business modules and integrated technology components. These customized technology solutions are created and deployed at 10x speed in comparison to traditional mobile app development, which creates apps from scratch.
The HokuApps mobile application development platform offers native-like mobile app experiences, allows businesses to connect with hundreds of front-end and back-end tools, and deploy flawless cloud-based apps. Lastly, the HokuApps mobile application development platform also safeguards critical data behind enterprise-grade firewalls.