Develop Food Delivery Apps in a Jiffy with HokuApps – Mobile Application Development Company
By

William Spencer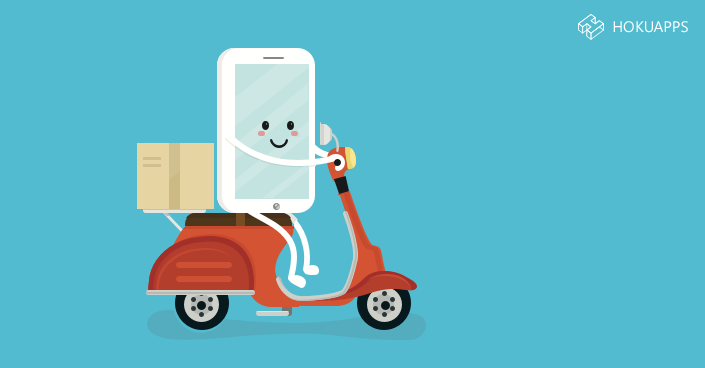 The upsurge in technological advancements and convergence of various media channels have drastically transformed today's digital landscape, where users are more aware and technology is all-pervasive. Users today are more technologically savvy and mobile-loving, and this shift in focus from desktop-based applications to mobile app development is all set to take the app economy in a more mobile-centric direction.
Our society has grown accustomed to convenience and mobility, virtually every market segment of every industry is adopting mobility solutions to reach and expand their customer base. There is a wealth of different applications out there that offer a wide variety of services and experiences, but there are only a few mobile applications that have become absolute essentials in our day to day lives. Mobile applications today take care of everything, right from daily utilities to personal care.
Applications like Uber have transformed the way people commute today. There is no doubt that it is one of the most successful ventures in a virgin territory that has spurred innovation and inspired a whole generation of entrepreneurs. As if that wasn't enough, Uber managed to ride this momentum to not only successfully enter a new market, but also cement itself firmly as a reliable and popular on-demand food delivery service with UberEats.
Since its introduction in 2014, UberEats has partnered with restaurants in cities all over the world, and its popularity has only been rising. UberEats has set a standard for mobile applications, and if you're looking to create an app similar to UberEats, then there are a number of factors to consider before starting this complex process. Hiring a dedicated mobile application development company should be your first step – the expertise, guidance, and experience that comes with a mobile application development company is exactly the kind of treatment an on-demand delivery app requires.
Understanding your market and business requirements is crucial before you approach a mobile application development company. In a world where users are too fickle and accustomed to immediate gratification, making a long-lasting impression can be challenging. Businesses need to develop mobility solutions that are engaging, intuitive and dynamic in their usability and design.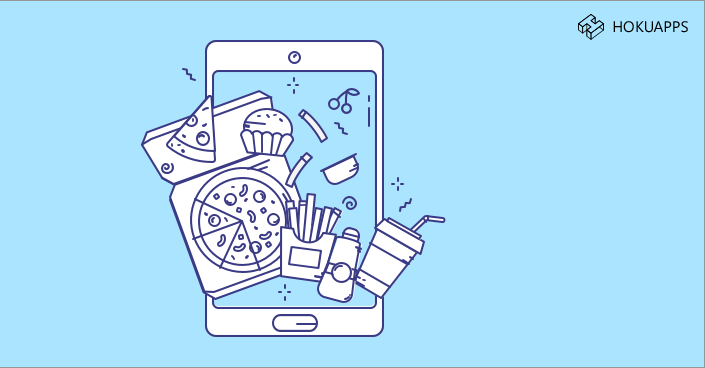 This is exactly what you can accomplish if you choose to work with a mobile application development company like HokuApps. The HokuApps platform helps your business to radically accelerate delivery of an innovative digital application. HokuApps helps you plan, build and run your digital future so that you are always a step ahead of the competition. And this is why HokuApps has automated the mobile app development process.
HokuApps is one of the top mobile app development companies out there, as it ensures that your idea is transformed into mobile apps that are innovative, intuitive and engaging to your customers. An advantage of hiring a mobile application development company is that you can boost sales and expand your customer base by enhancing customer experience.
Our cutting-edge automated platform ensures that your digital solution has features that not only attract customers but compels them to keep using it. At HokuApps, we understand the little nuances, as well as the broader principles that govern the market.
HokuApps is a cutting-edge technology platform that creates mobile apps on an automated platform which constitutes 90% of the app development. The remaining 10% is left for customization to suit a business's user administration for organizational hierarchy.
There are 10 advantages to developing apps on our automated platform:
Short time-to-market – 4-6 weeks on an average
Minimal coding required
Fully customizable mobile app development
Cross-platform app development, i.e., iOS, Android and the Web
Affordability
Inbuilt enterprise admin backend for advanced data collation and granular reporting
Security features at all levels
A scalable infrastructure
A communication framework with chat and notifications
Stunning UI and logic-driven UX
Here's how we do it.
Our platform helps businesses to make technology faster with deep libraries that feature on-demand business modules, pre-connected technology components and a design studio with hundreds of design options. These elements are fused together on our automated platform via a drag and drop process, helping reduce the burden of hand-coding, testing for bugs and reliability, like no traditional app development platform can. The apps are then customized at a business-level to suit the business's unique organizational hierarchy.
Additionally, HokuApps is able to provide your business with market insights based on real-time data and analytics that helps you understand your audience better as well as the kind of on-demand app you need to develop to optimize your products and boost return on investments.
A mobile application development company developing an on-demand food delivery app needs to be equipped to deliver on key points such as the customer side app, owner/restaurant dashboard, admin/control panel and everything in between. This means covering everything that constitutes a good UX/UI, from login and registration of users and the seamlessness of transactions to the ratings and reviews systems.
User interface and user experience are very important when developing food delivery apps. Maintaining a sleek, compact and engaging design contributes directly to the success of your app. HokuApps' developers help you provide your customers with a personalized unique experience in line with your business vision. Ensuring that the technologies you choose to employ are custom implemented is something that you only achieve with a dedicated mobile application development company.