Essentials of Efficient UI/UX Design in Mobile App Development
By

Alice Johansson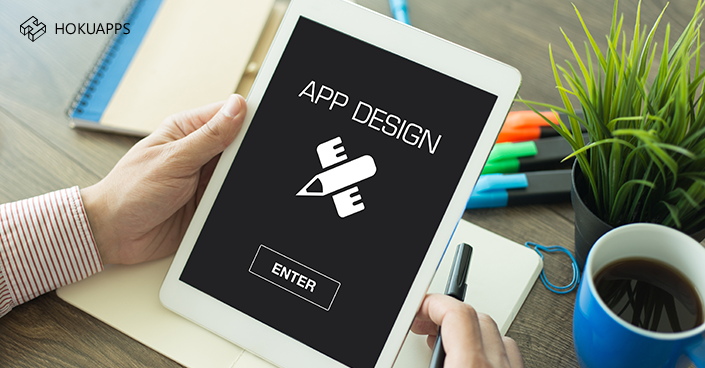 Terms like User Experience (UX) and User Interface (UI) are now very commonly used in mobile application development today. Experience of UX and UI is essential for any mobile application to succeed, particularly because any mobile app designed without proper research will be too dull in its look and feel to attract users. In other words, UI or the UX is the first thing that a user sees in your app and this shapes up their first impression of the mobile app. And this is why mobile app design is so important in mobile app development.
If you include both UI and UX effectively in your app, it would be quite flawless and interactive with a simplified interface, which can earn your business a wider and loyal customer base. Although the tools and skill sets required for both UX and UI involve the same knowledge base for the developers, they are basically two separate disciplines in the mobile app design framework.
The difference between UX and UI actually lies with how the users approach an app. The modern users not only seek attractive app looks (which is UI), they also prefer easy navigation channels to browse the app with fewer touches (the UX). Hence, the UX designer is mainly concerned with how well the app performs across all mobile devices and platforms, whereas the UI designer is responsible for building a compelling app interface which makes user interaction with the app easy and simple (colors, icons etc.).
When combined together, the UI/UX of mobile app design can make a business solution intuitive and be engaging at the same time for the customers. Before you dive into the essentials of UI/UX design in mobile app development, let's quickly get into the basics for each of them.
Here's the HokuApps pick of the most essential UI/UX design elements:
What is User Interface (UI) Design?
By the word "interface," we generally think of the aesthetic elements of an app, such as the screen size and color combinations. However, it means much more in the field of mobile app design. UI is more concerned with the overall presentation of the app – how good it looks and how well it performs while interacting with the customers. To make the flow of the app smooth, UI designers often concentrate on implementing simple navigations and call-to-action buttons.
The use of UI in mobile app design requires a lot of market experience from the developers, as they need to build the interface in such a way that it becomes easy for the users to instinctively figure out the app functions and features.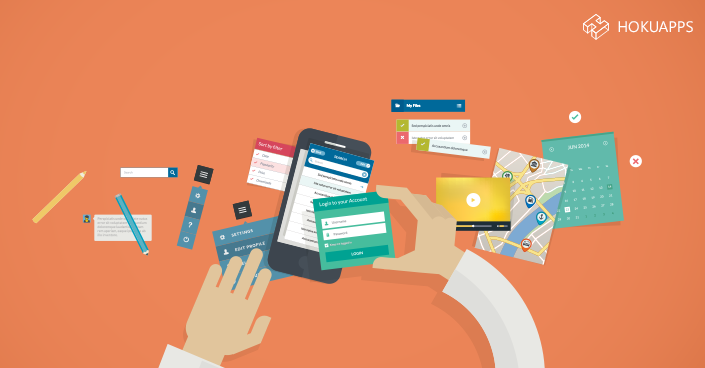 What is User Experience (UX) Design?
UX, as the name suggests, functions to enhance the overall app experience of the users, by taking into account how the user is likely to interact with the app. UX in mobile app design needs to be concerned with the personal feelings of the user at every stage of the app development.
UX designer constantly gathers feedback from testers before and during the app development and modify the app features as per the user feedback, after the app has been developed. The overall intention of UX in mobile app design is to improve interactivity and accessibility of the app, by keeping it simple as well as user-friendly.
The UI designer has to constantly work on how the product appears with all visual elements incorporated into it. On the other hand, the UX designers have to engage in competitive analysis and understand your business processes and app requirements, to build an app which is unique as well as logic driven.
Aspects of UX/UI in Mobile App Design that Work
There is a need to strike the right balance between UI and UX so as to line up organic traffic on your business app and keep them hooked with engaging app experience. With that being said, there is a classic debate on what it actually takes to make an optimal mobile app design – while some support appealing interface, others, like Apple, keep app simplicity over anything else.
Undecided about what to follow?
Here are some of the crucial aspects of effective UX/UI design, which will help you to build a flexible and simple app that provides top-notch user experience:
Use Standardized Elements
Using common, conventional mobile app design elements like buttons, colors, icons, and symbols help users approach the app with a familiar feel. Generating such experience of familiarity is important because it helps the user to spend a long time on the app, which opens up the possibilities of deriving maximum benefit out of that usage for you.
Keep it Simple
Apart from incorporating standardized design features, make sure that all other app elements, textual or visual, are simple and easy to understand. If your users need a manual to understand how the app works, your UI/UX design is at fault. The easy and intuitive interface makes the users confident about the functionality of the app and helps them use it without any confusion.
Prioritize Speed
Speed is a very important aspect of any mobile app design because it helps businesses to convey the message that they value the time of their users. The longer an app takes to load, the lesser would be the number of its users. Direct your mobile application developers to create stunning yet efficient mobile app design, which takes only seconds to load.
Besides, if you need to promote any latest offering or inform the users about any ongoing app process, it is best to send those messages through notifications. This method not only saves the time of consumers but also helps you reach the targeted base that much faster.
Make It Look Natural
Ask your mobile app development company to use effective UI tools like toggles and buttons for creating a natural-looking app. The use of gradient and shadows are also very popular tools among mobile application developers in making eye-catching 3D forms and buttons within any mobile app.
Keep It User-Centric
Any user-centric mobile app design encompasses a lot of vital app features and elements, including the touchscreen. As per the tech giant Apple, providing 44-pixel square of space to a button makes it easy for the user to tap into it. Keeping the recommended finger size for tapping aids users to click on the particular button without pressing another one mistakenly with it. It also makes toggling an easy process for them.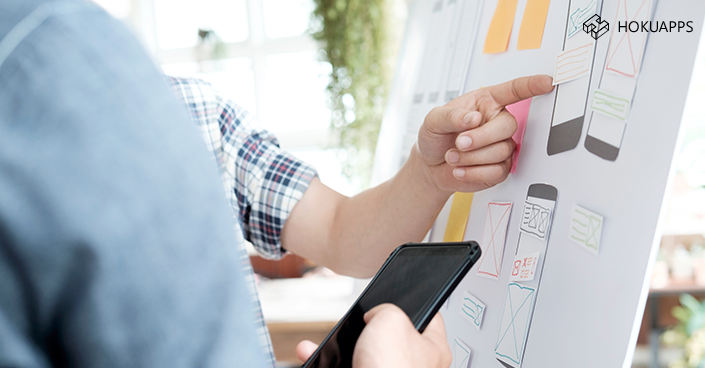 Make Apps with Best UX/UI Design with HokuApps
Unlike most mobile application development companies, we understand that your users' experience is determined by both content and visuals incorporated into the app. Thus, we shift away from the ineffective method of providing only attractive mobile app design and work along with you to develop ease of use, which can make app interaction a very pleasurable experience for the users.
Platforms such as HokuApps offer MADP are designed while keeping these factors in mind. Employing a comprehensive tool like HokuApps MADP allows a low-code approach to app design and development. The platform features a deep library – a design studio – with hundreds of pre-built designs. Designs cater to the guidelines as suggested by Google and Apple so that the apps fit into the design logic of both OS platforms.
The reusability of resources such as pre-built business modules, pre-built technology components and pre-built connectors reduce the chances of budget extension while increasing 100% custom app deployment by 10 times. A stark differentiation to traditional mobile app development platform, where each app is developed and designed from scratch.
At HokuApps, our experienced teams focus more on keeping the mobile app design uniform across both platforms so that users don't have to struggle to comprehend the patterns of the usage of the app. By combining aesthetics and responsiveness, we can help you build future-oriented apps, which provide a simple yet motivating platform for the users to enjoy and work on.