Benefits of Custom Mobile Application Development for Your Enterprises
By

Alice Johansson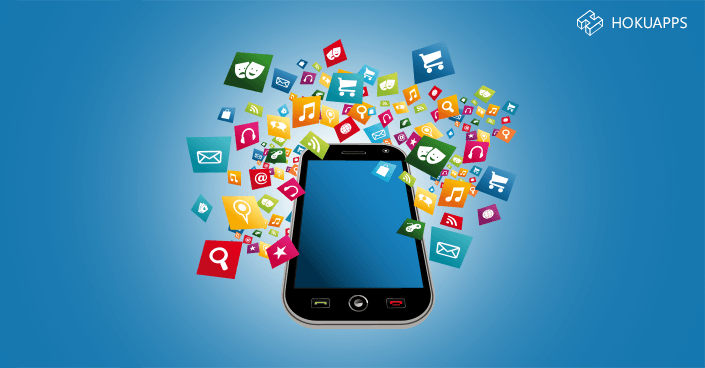 The significance of mobile applications is quite obvious in the present day. Everyone using a smartphone or a tablet spend a significant amount of their daily lives fidgeting with these gadgets. In fact, the popularity of smartphones (and consequently, of apps) is finding new markets with growing recognition in developing as well as under-developed nations. For many, mobile applications are a necessity that makes critical daily tasks extremely convenient for users.
For certain sections, the absence of apps would actually put a full stop to the significant daily chores. For businesses across the world, apps have helped in staying relevant in an increasingly diverse and dynamic environment. The demand for enterprise mobile application development has thus risen exponentially as organizations battle to get a competitive edge over each other.
Custom Mobile App – A Standout Solution
Organizations clearly realize the role that mobile applications play a critical role in the growth and expansion of their businesses. Companies are incorporating mobile app as a crucial component of their core business strategies. Consequently, the number of business-centric applications in an app store is increasing. While the situation does highlight the significance that apps have assumed in the present-day scenario, it also indicates that just owning an application is not likely to make an impactful difference to your business.
Then what's the solution, you ask?
Well, the answer is mobile apps; but not a generic one. To meet the dynamic business demands a custom mobile app is required. A custom-built application has features and functions – like enterprise admin backend, a communication framework, a scalable infrastructure and industry-best security – streamlined to make a positive impact on your business.
Custom Mobile App – the Key to a Better Business
A generic mobile application is a regular app that we all are accustomed to using. It serves as your enterprise's window in the digital world. A netizen who finds your content interesting has the scope to explore what you have to offer. You may say that such an app does not discriminate between a mere visitor and a customer (or a potential customer). However, from a business perspective, you must realize that the mobile application is not treating your customers (and prospective customers) in a special way. On the contrary, a customized app experience is what retains your customers as well as converts prospects into customers.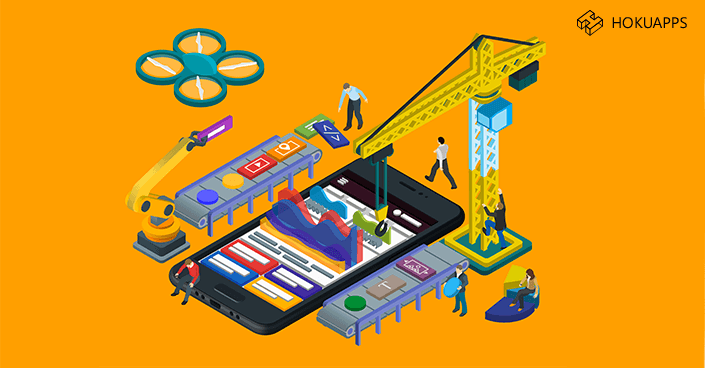 Custom mobile application development is the process of creating a custom app for a specific user-base. When a mobile application development company, such as HokuApps, is developing a custom app, it focuses on the requirement and expectations of targeted users and streamlines the features and functions accordingly based on the business's unique ecosystem. Hence, custom mobile applications have capabilities that a regular app does not. Custom applications can be B2C or B2B or for an enterprise's internal purpose only. There are multiple benefits of custom mobile applications that directly impact your business.
Custom Mobile App – the Benefits
Personalized User Experience
Custom mobile application development is perhaps the only way to ensure personalized and highly satisfactory user experience. As mentioned already, a custom app is developed with a particular audience in mind. Features vary based on the business they are designed for. With improved customer engagement, you can certainly expect a higher ROI.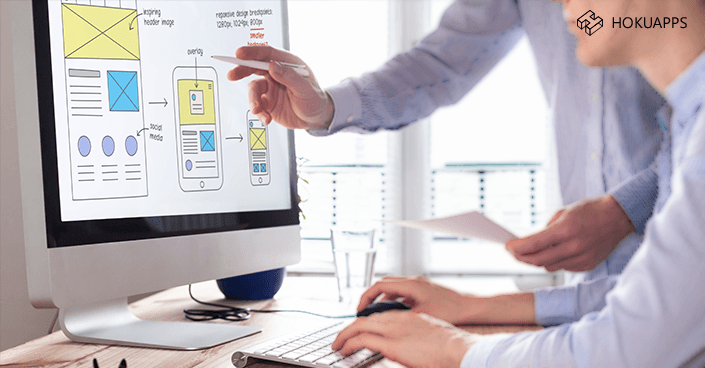 Improved Productivity
Whether your business is a medium sized consultancy or a large scale enterprise, custom mobile application development facilitates smooth workforce collaboration by integrating various functions. Small businesses can opt for a single app with multiple functionalities incorporated, while very large organizations typically prefer to have separate apps that are integrated allowing cross-team accessibility as required. Either way, custom enterprise mobile applications enhance efficiency, thus increasing productivity considerably.
Revenue Generation
Custom mobile apps also add to your avenues of revenue generation. With strategic third-party collaborations, you can not only offer extended service to your customers but also drive them to spend. For instance, if you have a confectionary business, you can establish tie-ups with florists and gift shops. Now, when someone places an order for a birthday cake, your app can ask the customer whether he/she requires a bouquet and cards. Therefore, you can charge a certain percentage from the third-party vendors for the sale triggered through your app. Similar revenue generation scope through strategic business alliance exists in every industry, and even across industries. Custom mobile application development allows you to capitalize on such revenue generation options.
Greater Scope of Scale
The scalability of your custom application is determined by the scope of your business. If the plan is to expand, you can specify the same to developers, so the features are built accordingly. The same application will serve your purpose, even if the scope expands. Thus, you do away with the extra investment in enhancing the application and shift the focus on other aspects of the business. The HokuApps automated platform features a built-in scalable infrastructure.
Higher Security
Depending on your business specific needs, you can opt for an on-premises storage or leverage the cloud for your custom application. Either way, higher security is ensured with HokuApps' custom mobile application development. In the case of enterprise apps, you can define the various levels of authentication to control the accessibility of employees, which is fully configurable. This level of security is not possible with a generic app.
HokuApps – Delivering End-to-End Custom Mobile Application Development
Custom mobile application development providers like HokuApps particularly emphasize on meeting business specific requirements. Hence, it is imperative that you explain the objectives and expectations clearly to the auditors.
Additionally, HokuApps offers a revolutionary mobile app development platform that develops custom technology solutions at 10x speed in comparison to traditional waterfall app development methods. The automated platform features pre-configured business specific modules, preconnected technology components that are bug-free and need no testing, a design studio and pre-built connectors to bring all elements together, all of which can be fully-configurable at a business level based on the organizational structure. This not only shortens time-to-market but keeps the solution affordable, tailor-made and reliable.
An increasing number of business enterprises are leveraging custom mobile application development to stay ahead of the competition. If you haven't thought of it yet, it is certainly the time now! Assess your business and get in touch with HokuApps.