Understanding The Challenges Of Enterprise Mobile Application Development
By

William Spencer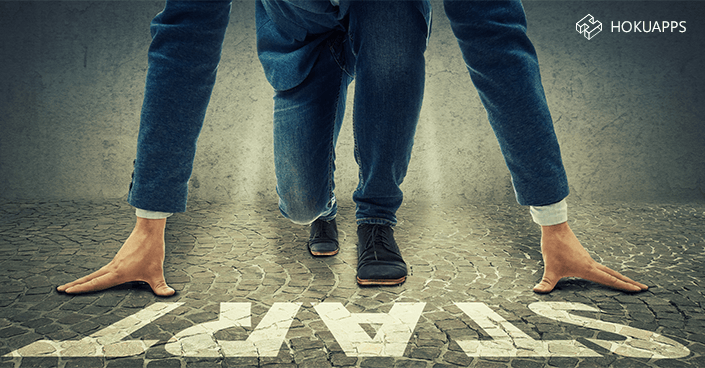 The demand for enterprise apps is increasing exponentially. As per a recent survey, 79 percent of companies in the USA have attributed a large part of their organizational success to enterprise mobile apps. Enterprise mobile application development is changing the way enterprises work by bringing upheavals to traditional processes that have been in place. However, enterprise mobile application development does come with its own set of challenges.
Four Major Challenges Faced During Enterprise Mobile Application Development
1. Appropriate Resources and Slow Development of Technology Solutions
2. Integrating with Back-End Resources
3. Device Fragmentation
4. Security
HokuApps provides a low-code mobile app development platform to help businesses develop and deploy technology solutions to overcome these challenges. Let us take you through the details.
1. Appropriate Resources and the Low Code App Dev Solution
The biggest challenge to enterprise mobile application development is, perhaps, the task of assembling the right kind of team of app developers or access to a cutting-edge platform. Team members have diverse skills and capabilities, but to find and recruit the right people to develop the enterprise app in question, is quite difficult, as has been observed from practice. Sourcing the appropriate talent for enterprise mobile application development, in other words, needs to be done with a high degree of perspicacity. It also becomes particularly challenging when some of the team members are located far away, geographically. This problem can be addressed by streamlined procedures by implementing the low code approach to enterprise mobile application development.
Low code app development, a term coined by Forrester, is the process of creating apps from reusable components, which makes creating apps a short-time frame procedure. Apps are created with a drag and drop methodology, thus, app creation is automated. This increases app development time by 10 times, in comparison to traditional 'start from scratch' methods of app development.
To curtail this challenge, HokuApps has created an automated platform that features 3 deep libraries of:
Pre-configured business modules
Pre-connected technology components
A design studio with hundreds of designs
The platform allows the drag and drop of all three elements to create generic mobile apps. These apps are then customized on a business level to suit its unique ecosystem. The result is fully-customized apps that are reliable, secure, affordable and scalable.
2. Integrating with Back-End Resources
While developing compelling user interfaces used to be a significant challenge, integration of the enterprise app with the back-end resources, has somewhat replaced it. Certain providers of enterprise mobile application development platforms and tools make provisions for smooth integration of disparate systems. An example of this sort of technology platform is HokuApps – a company that is ahead of their game in this respect – and confident in all its dealings. This is because HokuApps offers more than 500 technology components to the most popular and advanced tools, without a limit to the number of integration options. Components can be integrated with one-click via a drag and drop process.
Additionally, the apps come featured with inbuilt enterprise administration backend to help the business administer the solution and includes a granular reporting engine for real-time analytics. It also comes featured with a communication framework for chat and notifications, a scalable infrastructure for future integrations, and inbuilt industry-best security features.
3. Device Fragmentation
Device fragmentation is one of the newer challenges that have cropped up in enterprise mobile application development ecosystem. With various operating systems in use, it is a definite challenge to customize the enterprise mobile app for different OSs like iOS, Android, and Windows. The business needs to invest in an enterprise mobile application development model that can create an app that can be customized to the existing variety of platforms. With Mobile App Development Platforms like HokuApps, cross-platform apps are created automatically. This is possible because of its automated mobile app development process.
4. Security
Security is a prime concern during enterprise mobile application development because there is a lot at stake. Data breaches and cyber-attacks on a company's enterprise mobile application poses a major threat to both customer data and internal business security. A single security flaw in the app can spell disaster for the whole of the organization. One way to reduce risks to security is to test out the app thoroughly on this count, methods for which, the developers of the app need to be conversant with. Competent mobile application development will provide both the means and the guidelines for thorough and foolproof testing for security standards.
The following are the key processes to implement to ensure high-security standards during enterprise application development:
4 a. Encryption of the Mobile App
Encryption of all enterprise mobile devices should be made a mandatory step in the enterprise mobile application development process. Encryption is crucial, as mobile devices connected to a shared network are faced with the danger of having the files copied from one computer device to another. This leaves each device vulnerable to data breaches and attacks. While most mobile enterprise app development platforms provide 128-bit encryption, other like HokuApps, provide 256-bit encryption which stands as the best security encryption on the planet.
4 b. Prevention of Mobile App Impersonation
Impersonating a mobile app is a method of proliferating viruses and other malware, and obtaining data by phishing, thus compromising a device's security. Impersonation basically replicates a familiar app in order to pull user data, and often causes a nuisance by introducing a bombardment of pop-ups and advertisements on the host system. This, however, can be prevented with precautionary measures taken at the mobile application development stage. Some low code rapid app development platforms offer these functionalities, one of them being HokuApps.
4 c. Maintenance and App Support
Lastly and most importantly, the most important solution of a mobile application development platform (MADP) is app maintenance and support. HokuApps offers a range of app maintenance that can cater to your specific requirements in enterprise mobile application development. They also serve as reliable partners in your app development endeavors. Support is provided along with it, throughout various project lifecycles. Also, they not only facilitate the development of a single enterprise mobile app but several, as and when the need arises, using the same platform.
HokuApps – the Most Comprehensive Mobile App Development Platform

Selecting the most suitable platform for enterprise mobile application development, therefore, is the key to developing a fully-customized app. Partnering with an app building platform does not have to be a major investment in enterprise mobile application development. Moreover, there is no point in purchasing an off-the-shelf solution that does not yield optimal returns.
If anything, HokuApps develops and deploys tailor-made industry-best solutions to deal with and overcome these developmental challenges of enterprise mobile applications. HokuApps have highly skilled experts on board who constantly stay abreast of technological advancements and upgrade to the latest developments in the market, as soon as it is released. Needless to say, if you want your app to thrive, you need to partner with MADP providers like HokuApps for enterprise mobile application development.